Lithuania, a lecture on the EoC at the agrarian University of Kaunas
Economy of Communion: An economy for man and humanity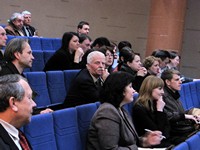 Last April 1, the agrarian University of Kaunas organized a seminar entitled "The promotion of social economy in the countryside of Lithuania", the biggest agrarian fair in the Baltic region. Nico Tros, who was invited by Prof. Rimas Ciutas, opened the morning session with a lecture entitled, "The Economy of Communion."
Some 50 participants were present and expressed great interest in the topic. Constant references were made to the EoC in the succeeding lectures. There was a clear feeling of wanting to commit and do more to improve the living conditions in the country, especially in the countryside, where poverty and the looming
atmosphere of the Soviet period remains.
Among the topics discussed, the participants took most interest in the division of profits. This was then comprehensively explained on a later moment. The consequences of a fraternal relationship within an enterprise, both internally and externally, also drew much attention.
During
 his lecture, the University Rector, Jonas Caplikas expressed, "Years ago I participated in a seminar of the Economy of Communion. Back then it appeared similar to a kolkhoz. I thought that economy and religion could not co-exist. Today the Economy of Communion continues to move forward and has developed both in the academic level and in terms of business practices. In our University, two professors have committed to do research on this project and a student has chosen to do his thesis on the EoC. It may be concluded that the EoC is spreading in Luthuania in various ways."
The University of Kaunas first expressed interest in the Economy of Communion back in 1997. Leo Andringa visited the university for the first time. Since then, there have been various occasions to present the EoC through seminars of economists in this university.