Commentaries from "Il Sole 24 Ore" - Distorsions
by Vittorio Pelligra
published in Il Sole 24 Ore on 10/07/2018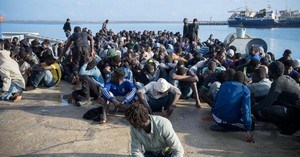 Try to ask yourself if the number of murders in Italy has increased, decreased or remained unchanged since 2000. Now, as you prepare to respond, your brain has already carried out a series of complex operations, some of them conscious and voluntary, but most of them unconscious and automatic. Of these, the most important is to retrieve events from our memory that are related to the estimation we are asked to process - in this case, memories of murders. These memories, which are then consciously elaborated, will form the basis of our response.
How good are we at answering such questions? How well-calibrated is our judgement? Very little, judging by the data. For example, according to the latest survey by Ipsos Mori, 84% of Italians think that the number of homicides has increased or certainly not decreased. The objective fact, however, represents a different reality; it shows that homicides have fallen by 39% over the same period. Well, to err is human after all. In this case, however, to speak of "erring" would be improper. If it were an error, in fact, we would have some people who would overestimate the incidence of the phenomenon and others who would underestimate it, and in large numbers these differences would tend to get eliminated. The proper word for what we are talking about here, however, is "distortions" (bias), which are widely spread among the population of all the countries studied, precisely because they have to do with our cognitive processes. They are mainly related to "hot" media topics, such as suicide, health risks, religious beliefs, corruption, immigration and so on, because in these cases media exposure makes our memory of them more vivid. That's why they are faster available to our memory, which in turn leads us, unconsciously, to overestimate their weight in our personal reconstruction of the phenomenon. It is important to underline this difference between "errors" and "distortions", because, unlike the former, the latter tend to be systematic, they all go in the same direction: "we are wrong", that is, all in the same way. And if these distortions are systematic, it means that they are predictable and therefore usable and exploitable.
An instructive example of the misalignment that can be produced between real data and distorted perceptions, as well as political use that can be made of the latter has been provided to us in recent days by the debate between the president of the INPS (Italy's state pensions agency - the tr.), Tito Boeri and the Minister of the Interior, Matteo Salvini. In his annual report Boeri states that in the light of the data on the structure of our labour market and demographic dynamics, the Italian pension system risks going into crisis without the contribution of new immigrant workers. Salvini replies by accusing him of living on Mars. Boeri's data are objective and correct, but according to the citizens' perception - and not only of those who vote for Salvini -, there are already too many immigrants: the latest Eurispes data tell us that the majority of Italians think that they are between 16 and 25% of the total population, while in reality they are 8%.
This is the crucial point, then: should we resign ourselves to the fact that the world of objectivity has to move to Mars? And who would like to live on this "Earth", where economic, migration and fiscal policy are based on distorted perceptions of the reality? The National bureau of economic research has just published a study by three Harvard economists (Alesina, Miano, Stantcheva, 2018, Immigration and Redistribution, Nber) which can help us answer this question. The study not only shows, as already stated, that there is a widespread tendency to overestimate the immigrants' impact on the population, but it also points to the systematically distorted errors of assessment as regards cultural and religious distance, economic fragility, the level of studies, the level of unemployment and access to public services.
In short, there is a seriously altered image of the reality reflecting the beliefs of a large part of the population and in particular of those who call themselves centre-right: they are not graduates and they work in low-skill and immigrant-intensive sectors (personal services, construction etc..). But the most interesting conclusion of the research, and to some extent the most discouraging one, is that even when citizens are provided with accurate and reliable information about the number of immigrants, their religious and ethnic profile and work efforts, which should reduce preconceptions and mitigate distortions, these do not change but, on the contrary, prove to be impervious to reality. This fact is not really consistent with the rhetoric of post-ideology. This image, however distorted it may be, counts for a great deal, because it gives rise to a consensus for certain policies rather than others. In this case, for example, redistributive policies are opposed by precisely those poor citizens who would benefit most from them.
The politics of perception therefore risks disadvantaging its very electoral base, whose consent is skilfully channelled and used. That is why it is more necessary than ever to activate some antibodies of seriousness and responsibility that help us prevent the further increasing of the gap between perception and reality, or using it for the purposes of consensus, so that we do not use the natural fragility of public opinion for partisan policies, but can base political choices on the best evidence available. Otherwise we will all be forced to emigrate to Mars sooner or later.