From 13 June 2011, a small dream became a reality
The EoC German site is now online!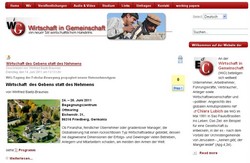 For a long time our German speaking friends and entrepreneurs from Germany, Switzerland and Austria wanted to have the German language on the EoC website. The first translations had already begun, but the lack of a person who could upload them continuously on the website, prevented this project to come true. Then, on March 2011, a friend of the EoC who lives in Switzerland, Enzo, has offered his time and skills to help EoC with the project: an offer truly appreciated and well accepted by our German speaking friends.
Since then, the collaboration was very intense: a German/English hybrid solution which allows translating less articles and now on the occasion of the First National Congress of EoC in Germany, the site in German is a reality! Best wishes for an optimal continuation of this great adventure of enthusiasm and generosity!