A project conceived just over one and a half years ago and announced on EoC Report 2013-2014 reaches completion. An interview with entrepreneur Koen Vanreusel
by Antonella Ferrucci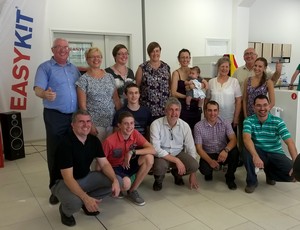 What's more pleasant than entering into the warmth of your own home on a cold winter evening? In Belgium, for over 20 years now, you can have a good heating system installed (with excellent output) thanks to the EoC company Easykit nv. Since 29 August in Serbia, in Novi Sad, you can do the same through Easykit D.O.O: the dream of Koen, Kris, Johan and Attila has come true.
This is a project that had begun to take shape at the EoC congress held in Ottmaring, Germany in October 2013. For the first time, EoC entrepreneurs from Northern and Eastern Europe held their congress together.
It certainly was not easy for the organizers of the meeting to put together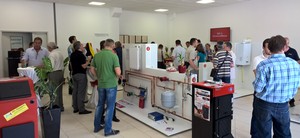 so many different mentalities (even to manage translations, in all those languages was a challenge...), but the story of Koen and Attila demonstrates once again how "biodiversity "is generative. The first idea was followed by a time period to assess its feasibility with reciprocal visits in Belgium and Serbia and then a year of intense work to build the new company, Easykit Serbia, which opened its first showroom in Novi Sad on 29 August.
Koen, can you tell us something about your company?
We started our company Easykit in Belgium more than 20 years ago, with one client, a store and two employees, Kris and me. Today we work with more than 60 employees, in 7 showrooms and we are able to support more than 2,000 clients each year. .
What is your business?
Easykit Belgium then, and Easykit Serbia now sell heating systems that customers can install on their own with our support, saving on installation and - above all - being proud of the result achieved. It is' that "support" that differentiates us from our competitors; an idea that has had great success in Belgium meeting the favour of the people.
How do you explain this success? When you started with Kris you could not know that it would work...
An entrepreneur should always look forward, observe the world around him and try to make it better through his or her business. For Easykit this means:
1. Support the customer in the installation of heating systems and other technical equipment in their house.
2. Create jobs for people and families
3. Not to stop at this but broaden our vision of the world near and afar, and provide the help we can, through the sharing of the profits of the EoC project.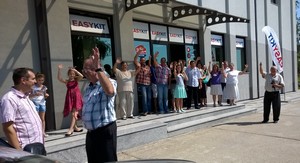 Our idea was obviously met by a need on behalf of the people to save by installing the system themselves, while getting an excellent result thanks to the technical support received: saying this in the terms of civil economy here there is a marriage of relational goods and mutual benefit confirming the success of our company.
What you tell us about your meeting with Attila and what followed it?
When we first met in October 2013 I saw in a great enthusiasm in Attila for our company and its products: we began to think that our idea could be successful in Serbia, too. He and his wife Boglarka immediately signed the three points of our mission: for us it was a sign to start this adventure. We built this new company step by step,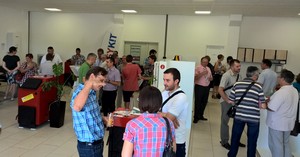 meeting the right people to manage the accounting, the supply of our products, the housing of the showroom on a local level. Of course we also had to adapt our ideas to the local situation. We saw faces that were surprised and intrigued, but then - I must say it was always the case - this surprise turned into collaboration. Today we are happy and hopeful for the future of Easykit Serbia, and the enthusiasm of our partners seems so assuring that it will soon infect all of our future customers.
The inauguration of Easykit Serbia was a moment of great joy for the whole Serbian EoC community: about 60 people attended. The invitation read: "A business is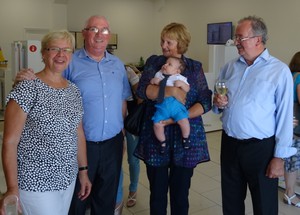 a public good because it adds to the whole community, and because of this it needs "the whole village" to survive. "In fact - Minka Fabjan confides - it seems that "the whole village" rushed to welcome the new company. "This is also our company", "it is a miracle," "this is a new humanity" were some of the comments of those present. An immense gratitude to the Belgian friends for their expertise, communion, support and friendship was palpable.
So now the baby is born and Easykit can start to grow. Heartiest greetings to all of the EoC!
From the 2013-2014 EoC Report see: EasyKit Springs from Serbia